Verticalization and the Exit Path for a Field Services Management Provider
Summary
What founders of FSM software companies can expect as they prepare for an exit
How verticalization influences the milestones on the path to exit
Growth industries create great exit opportunities for founders, and the field services management (FSM) software space has seen tremendous expansion in recent years.
Growth in this category isn't slowing, as the FSM market is forecasted to expand at a compound annual growth rate of 19.7% between 2021 and 2030.
For FSM founders looking to exit in the next 2-5 years to take advantage of growth multiples, what should they expect to see along the path to exit? That experience will in part be influenced by their companies' verticalization strategy.
Horizontal vs. Vertical Approaches in FSM
Software companies in the FSM market operate with one of two approaches: horizontal or vertical.
Specifically, a horizontal approach means you've built and marketed a product that is agnostic to the various sub-verticals. Conversely, a vertical approach means you've designed your software for a specific sub-vertical.
(Note: Technically the terms "vertical and sub-vertical" more accurately represent the above two approaches since the FSM segment is a vertical of the broader Enterprise Resource Planning market. However, since the scope of this article is limited to the FSM space, and because we'd rather not split hairs, we'll refer to the two approaches as "horizontal and vertical.")
Why is the distinction between horizontal and vertical approaches important? Because the degree to which a company is verticalized will influence the milestones along their path to exit.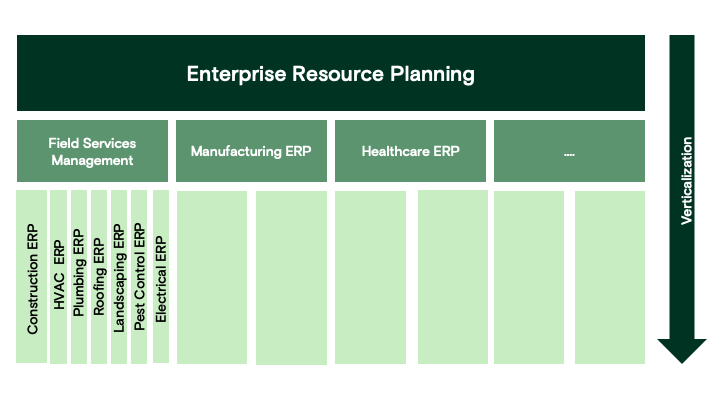 Differences in the Exit Path Based on Verticalization
The exit paths of either a horizontal or vertical FSM software provider will be similar, but there are subtle differences in two key areas:
The mode of exit
The size of exit
The mode of exit
For both horizontal and vertical FSM providers, the most likely exit paths are through an M&A or private equity transaction.
Because horizontal providers serve a wider customer base, they're in a better position to attract the interest of larger strategic players operating both inside and outside FSM. For vertical providers, strategic interest will likely be limited to those players already operating in FSM.
From a private equity perspective, both types of providers can equally attract interest from investors, though for different reasons. A horizontal provider is more likely to serve as a platform to build on (either organically or inorganically), while a vertical provider is more likely to be rolled up into a larger company or portfolio of investments tied together by a common theme.
For founders interested in pursuing an IPO, note that doing so is more likely for founders of horizontal FSM providers due to their larger market size, though an IPO still may not be the right path.
The size of exit
The ceiling on valuation for horizontal providers is higher because they:
Have a larger opportunity in terms of total addressable market
Attract interest from larger strategic players
For vertical providers, the valuation is capped due to the smaller size of the market, though the probability of a successful exit is higher because a smaller market means market penetration becomes easier.
Regardless of how verticalized your company is, note that the valuation multiples in the FSM sector are astronomically high compared to the broader market. In other words, the floor has been elevated for all companies in this category, while the ceiling is dependent on how big your market is.
Other sub-vertical dynamics will also play into valuation. For example, customers churn at a higher rate for pest control FSM providers than they do for construction FSM, which influences the outcome.
Other Differences Leading Up to Exit
Leading up to an exit, horizontal and vertical providers will generally have different experiences in terms of competition, go-to-market strategy, and their approach to sales & marketing. These differences, of course, will also be influenced by dynamics in the various sub-verticals.
Competition
Vertical providers tend to see less competition than horizontal providers because the more niche the target market, the more differentiated the solution is from competitors.
Go-to-market strategy
In terms of go-to-market strategy, a horizontal provider will focus on creating a top-down, customizable product, then on penetrating the sub-verticals who generate the most value with the product. Conversely, vertical FSM providers will start by creating a product that is highly bespoke to a specific sub-vertical, then expand into sister sectors who look similar.
Sales & marketing
From a sales & marketing perspective, vertical providers tend to rely more on inbound vs. outbound compared to horizontal providers. This tendency, however, will also depend on the dynamics of the specific sub-vertical as well as the size of the target customer (i.e. SMB vs. enterprise).
Regardless of the path you've taken as a field services management software provider, the market is highly attractive and has therefore opened great opportunities for founders to grow and exit a business.
If exiting your business is a priority in the next few years, you'll want to start focusing on following the steps to prepare your company to sell.