The U.S. Digital Health, Wellness & Fitness Market in 2021
Summary
How various demographic and cultural trends are benefiting the online wellness space
How the COVID-19 pandemic pulled demand and innovation forward 3-5 years in online wellness
Why the current climate presents a strong M&A opportunity for founders in the wellness space
In consequence of the global pandemic that precipitated a mass transition to remote and hybrid lifestyles, companies in the health, wellness & fitness market are positioned for a massive market opportunity in 2021 and beyond.
This opportunity rides on the tailwinds of various demographic and cultural dynamics, including:
A migration away from traditional gym memberships towards fully and partially online wellness programs
The growth of the Millennial and Generation Z cohorts, who are equipped and willing to pay for subscription-based wellness programs
These trends are particularly relevant to companies in the online fitness segment, a market slated to reach $59B in 2027.
Based on recent M&A transactions, founders in the digital health, wellness, and fitness space can capitalize on these market trends to grow their business and create a clear path to exit with strong outcomes.
Below are some of the key trends affecting the health, wellness, & fitness space (hereafter referred to collectively as wellness) that position the space for rapid market growth and new M&A opportunities.
A Momentous Leap to Digital Wellness
Historically, the wellness market was dominated by in-person events in the form of fitness classes, meditation sessions, therapy sessions, etc. Focused on improving the in-person experience, wellness providers focused little on online options.
With time, key players in the wellness space introduced capabilities to provide remote wellness services to their customers. Initially, however, widespread adoption of these services faced early headwinds as consumers struggled to adapt to the concept of virtual wellness.
With the outbreak of the COVID-19 pandemic, wellness providers and consumers alike were forced to adopt a fully virtual platform, accelerating innovation and action from both parties that would have usually taken much longer to propagate across the industry. As a result, demand for digital, at-home fitness was pulled forward 3-5 years and spend in this area surged 30-40% following the initial lockdowns in early 2020.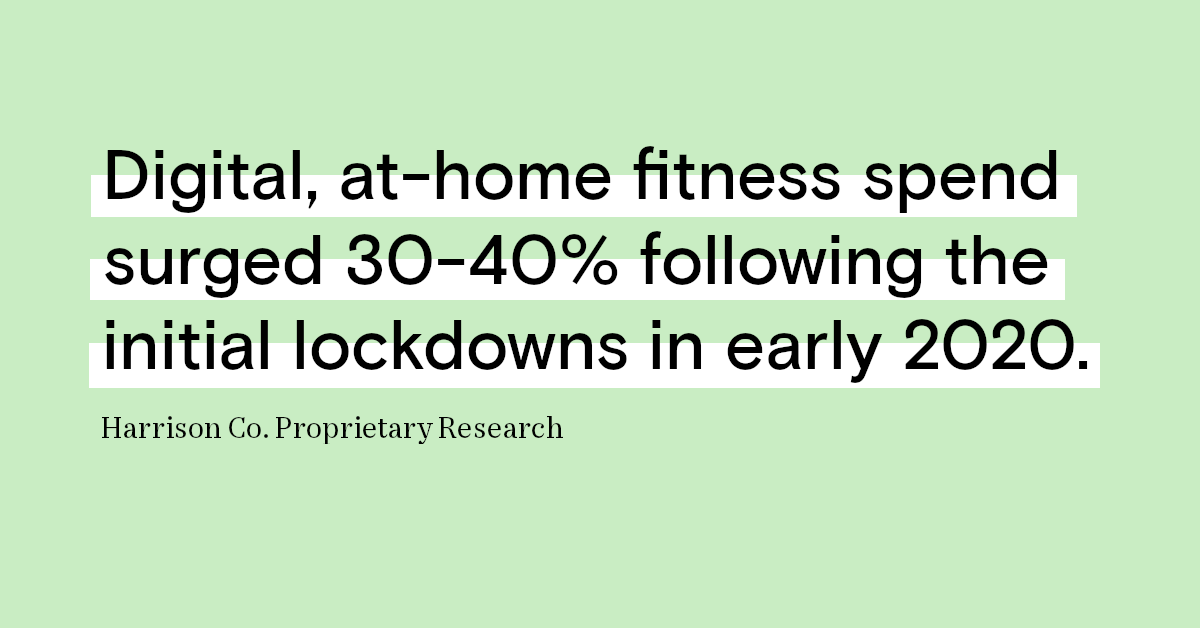 Forced to make the switch to virtual, consumers were exposed to the ease and flexibility of remote classes, creating a fundamental transition in how consumers engage in wellness online and offline.
The Health, Wellness & Fitness Industry Is Undergoing a Fundamental Transition
Remote-only wellness won't necessarily remain the norm, but a hybrid approach appears to be the face of a new normal as 87% of people who feel comfortable returning to gyms will continue to keep at home workouts in their routine.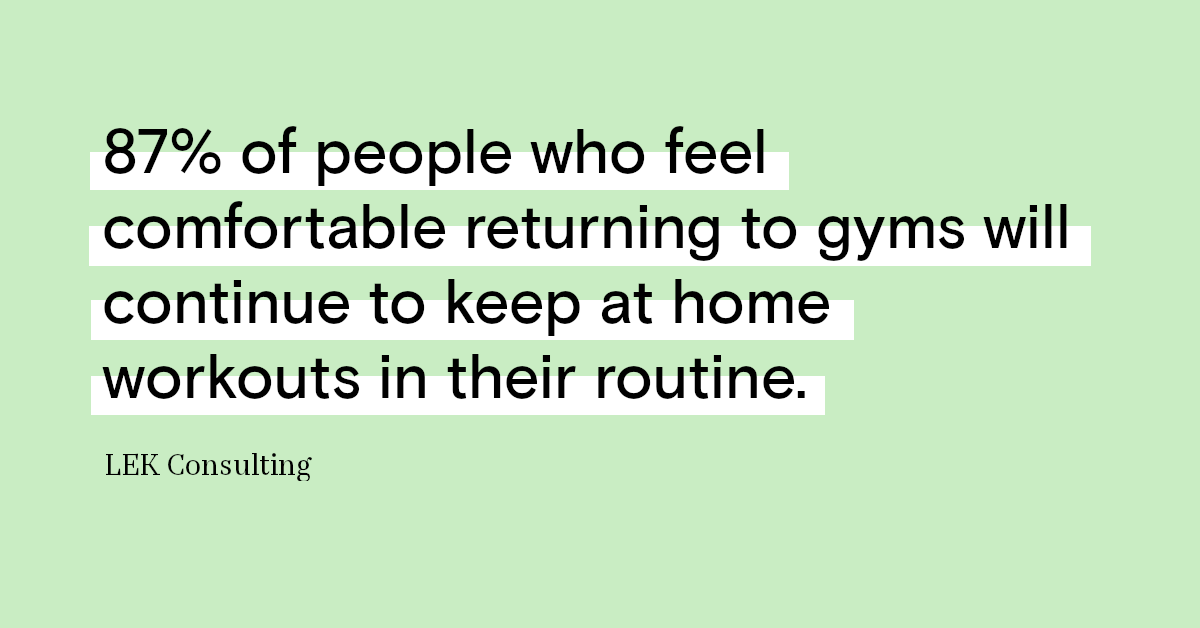 These changes in consumer behavior have made more room for a growing category in the wellness space: connected wellness. Connected wellness, which merges the benefits of in-person and online wellness practices, is shifting demand from traditional, in-person gym subscriptions to boutique, connected studios.
The shift in demand is evidenced by the gap in market growth between the two sectors. Since 2013, the average YoY growth in traditional gym revenue was only 2%. U.S. yoga participation, as an example, has seen 120% growth since 2012.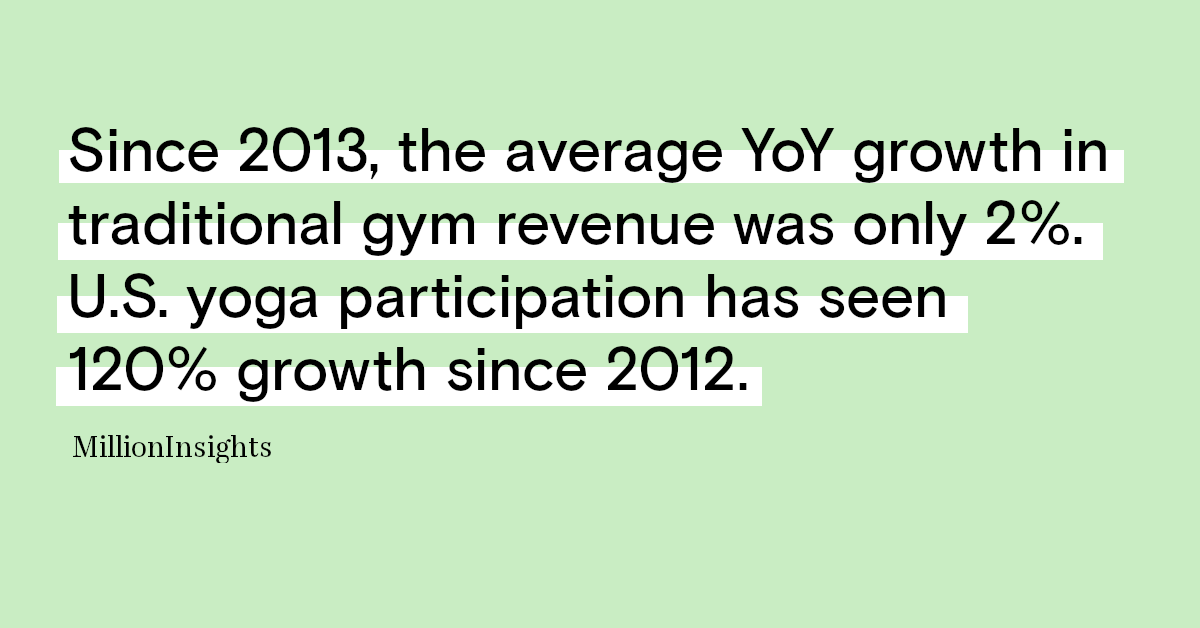 The end result of this preference for online and boutique classes will result in an estimated $10B in annual consumer spend shifting from traditional gyms and fitness centers to at-home, on-demand video and boutique studios.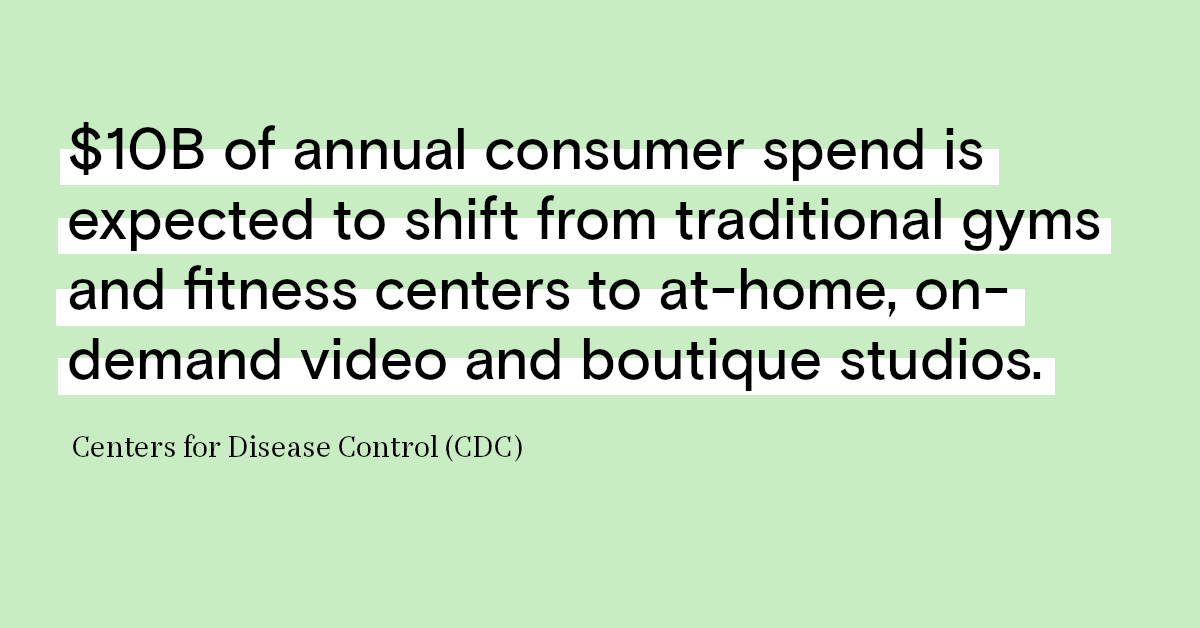 Booming Growth and Demand in Connected Wellness
The broader wellness and fitness market continues to remain massive and is expected to exceed over $95B in 2021 with room to grow. But the number of connected wellness establishments, on the other hand, have not remained consistent in the face of growing market demand (see Figure 1).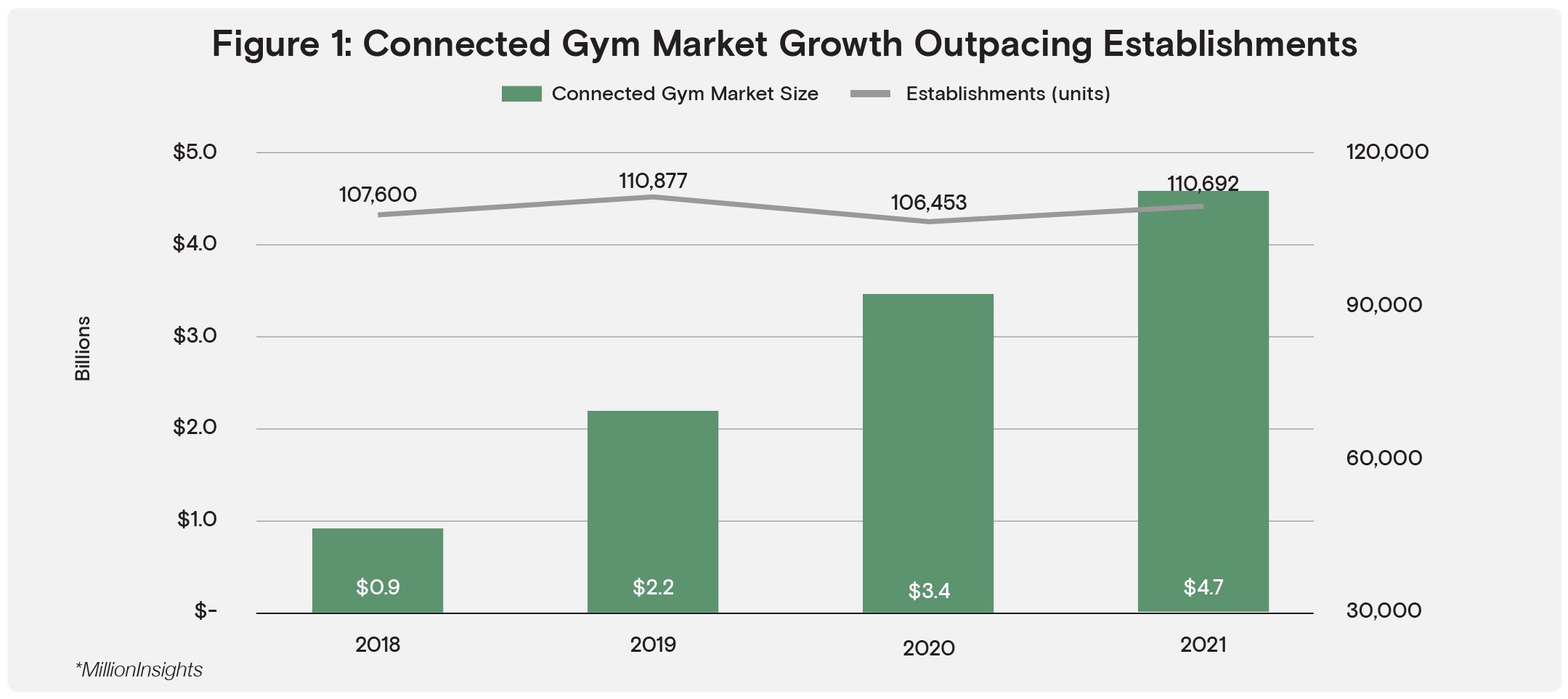 The explosive demand for connected wellness can in large part be attributed to broader economic trends acting as tailwinds. Specifically, Millennials and Generation Z have overtaken other generations in the U.S. in both population and purchasing power (see Figure 2). Both groups have shown a greater propensity to pay top-dollar for connected wellness, and this market dynamic sets the fitness and wellness industry up for continued growth and profitability.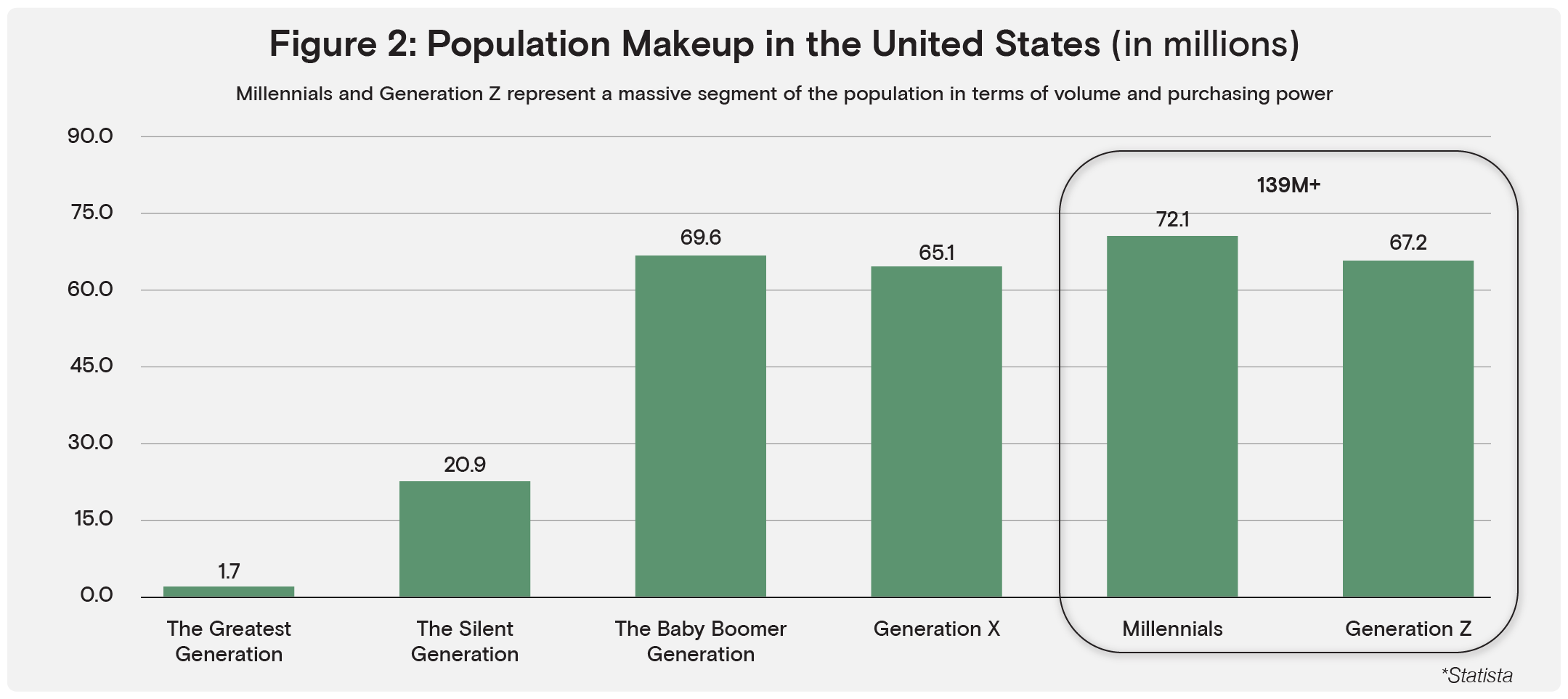 In light of these market trends, strategic buyers and investors with their eye on the online wellness space have recognized the growth opportunity and have responded accordingly, accelerating M&A and investment activity.
M&A Consolidation and Investment Activity Is at a High
In the past year, the wellness space has seen tremendous consolidation as companies like Mindbody, Daxko, and others have been actively seeking wellness products to roll up into their ecosystem. (See below for consolidation in the wellness space.)
In addition, given the fragmentation in the market, M&A activity in the fitness and wellness space has continued to remain incredibly high as players look to further consolidate in the space.
In terms of raising capital, activity is also at a high level, evidenced by transactions like:
Vista Equity Partners' $1.9B investment in MindBody at an 8.3x EV/revenue multiple
Advent International's $1.0B investment in TSG at a 10.7x EV/revenue multiple
Below are transactions in the wellness spaced closed in the last 6 years.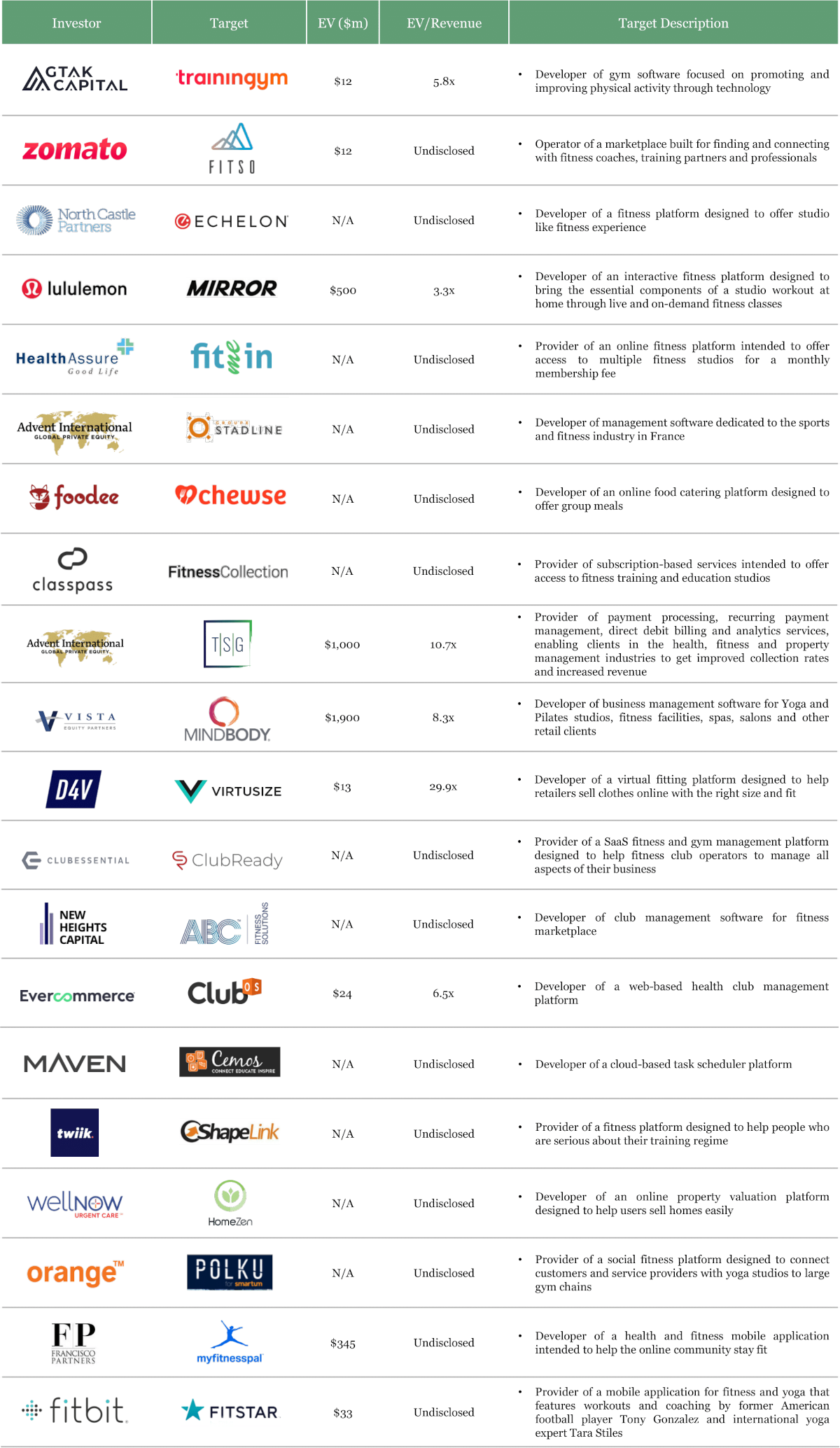 As a result of the high level of M&A and investment activity, wellness companies that remain as private, independent assets are becoming more scarce, driving improved valuations and transactability.
A Path to Exit for Online Wellness Founders
Matching with our expectations, the back half of 2020 saw a V-shaped recovery for valuations and M&A following the initial COVID-19 shutdown.
Q1 2021 continued to rebound, posting YoY growth of more than 17% in M&A activity compared to a pre-COVID economic climate. In other words, M&A activity is growing over the previous baseline, not just coming out of the pandemic-induced trough. This growth signals not only a return to normal M&A levels, but rather continued, explosive growth due to the ever-expanding levels of private equity dry powder and the proliferation of high-quality assets.
Founders who recognize and capitalize on growth in the online wellness market and high demand for quality assets in M&A are in a great position in 2021. The window has never been better for an exit.
---
Vista Point Advisors is a boutique investment bank that focuses on advising founder-led companies in the Software and Internet industries. We focus exclusively on sell-side M&A and capital raising transactions.
Learn more about our team or see our recent transactions.